The Lauren, A Condominium - Special

Cherry Blossoms Early
March 24-31, 2012
---
Washington Post
03/01/12
Rob DeFeo, chief horticulturalist at the National Park Service, predicts an early peak for this year's Centennial cherry blossom bloom at the Tidal Basin.
DeFeo, speaking at a press conference at the Newseum this morning, said he expects peak bloom to occur between March 24 and 31. The average bloom date is around April 1. Peak bloom is defined as the day on which 70 percent of the blossoms are open.
Related: D.C. cherry blossoms' peak expected March 24-31, during 100th birthday bash
DeFeo explained the bloom periods starts a few days before the peak bloom date and can last up to 10 days after, although there is some year-to-year variability.
Unseasonably warm weather for much of the winter has led to "a lot of speculation"about the bloom date, DeFeo said. But the 3rd warmest December to February period on record in Washington, D.C. has little bearing on the bloom dates, he said
"It really only matters as to what happens from now on," he said. "All the warm weather before did not move the cherries along. But now, yes. Now is the time where, if it gets really, really warm, things could accelerate."
As David Streit reported yesterday, the earliest blossom peak on record occurred on March 17, 2000. That year, temperatures were 5 degrees above average in March. No freezing temperatures occurred before the peak bloom (during March) and temperatures surged to between 70 and 85 degrees for four straight days March 7-10.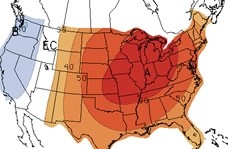 NOAA's 30-day outlook for March indicates a good chance of above average temperatures for much of the eastern two thirds of the U.S. (NOAA CPC) Forecasts for the month of March this year indicate above average temperatures in the region. For the next week, temperatures should be at least five degrees above normal. But there is no clear sign that it will become "really, really warm" with a temperature spike into the 80s in the near term.
Related: March outlook: Warmer than average, low snow chances
Beyond the next week, NOAA's 6 to 10 and 8 to 14 day outlooks also indicate warmer than average weather in D.C.
"We'll be monitoring the buds and providing [bloom date prediction] updates as appropriate," DeFeo said.
Related: National Park Service Bloom Watch website